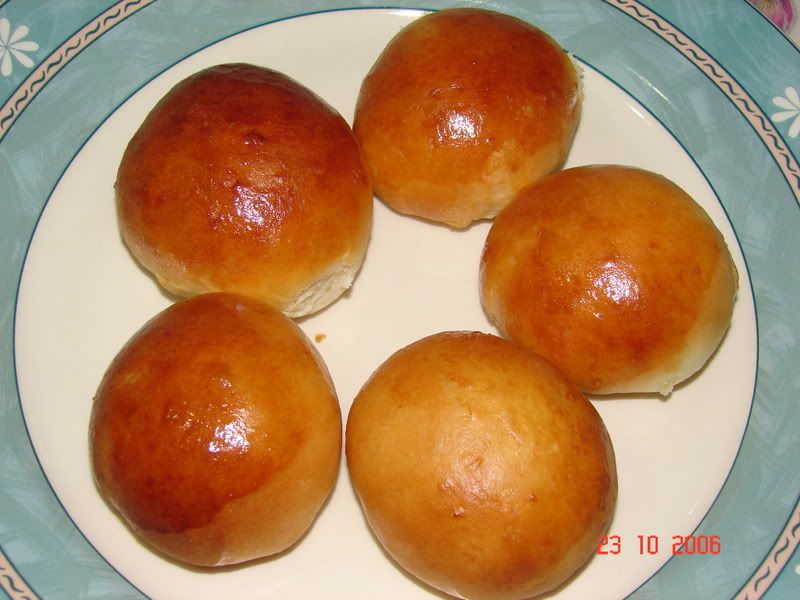 Yes, you are right! Another simple recipe that I have tried.. you can use this recipe and replace the fillings with your favourites or just bake it without any filling.
Basic Bun Recipe
Ingredients:
A
250g flour
1/2 cup caster sugar
1/2 cup powder milk
(Mix ingredient A together)
B
4 teaspoon salt
1/2 packet yeast maripan
1/2 tablespoon spry [crisco]..melted [can be replaced with butter or margarine)
1 egg (beaten)
1 tablespoon cooking oil
125 ml warm water
Method
1. Mix all the dry ingredients together in a big mixing bowl.
2. Put in all the wet ingredients and mix well.
3. Knead dough until smooth
4. Cover dough with damp towel and leave until doubled the size
5. Turn out, punch and knead lightly
6. Divide dough into several small balls and flatten.
7. Fill in the fillings or just leave them empty
8. Roll into balls and leave them to rise again.
9. Bake at 200C selama 15 min (can also be fried until golden yellow)
10. Before baking, brush the egg and milk mix on top of buns to give nice brown colour to the bun
11. When buns are cooked, glaze with butter.
I told ya..... the recipe is so simple.... and the buns turned out nice... ( I am not a professional baker, so I am so happy when they turned out nice, hahahaha)